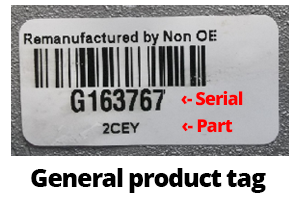 Product serial numbers can be found on "Remanufactured by Non OE" tags on our products. Each serial number begins with a letter (assigned to the remanufacturing facility) and has an additional five or six numbers following it. The tags may also include a part number, but the part number will be smaller and appear just above or below the serial number. These tags can be found as follows:
Automatic transmissions

Just above the oil pan rail or on the side of the bell housing.

Differentials/Axles

On the top of the axle case.

Cylinder heads

The front or side of the cylinder head.
Cylinder head serial numbers may have five digits following the initial letter.

Long block engines

The front of the cylinder heads and on the side of the block.
Ford long block engines, specifically, may have a square metal tag instead with the same information included. One tag will be affixed to the rear of the engine block.
Hover and click the right and left arrows to scroll through available images.
Click any of these photos to see larger images of serial number tag locations.

The serial number is included in the original paperwork sent with each remanufactured product and is included on the shipping container.